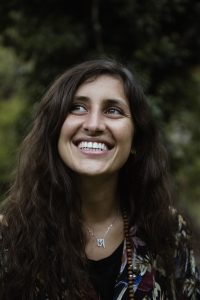 About me
Finding the Gold Within
I grew up in Paris, France and first moved to the UK at age sixteen. A couple of years later, my search for inner peace led me to set off on a long journey to India, Nepal and Thailand where I attended my first Buddhist meditation retreats. It was there that I got my first glimpses into the mind's capacity for deep transformation, infinite openness and compassion.
In 2009, upon returning from Asia, I met the Tibetan Buddhist master who would become my root spiritual teacher. Curious to learn more about our own spiritual traditions, I moved to Israel for a year to study the great Western religions: Judaism, Christianity and Islam. I also delved deeper into India's non-dual philosophies and mystical practices. Whilst all this travelling and avid studying gave me a good understanding of the universal quest for meaning and happiness, it was through my own personal meditation practice and commitment to the Buddhist path that I began to truly understand the inner workings of the human mind and heart. Thick clouds of suffering that had been weighing over me began to dissipate and revealed a deep well of resources —an innate capacity for deep peace and clarity, boundless spaciousness permeated by sharp wisdom, love and joy.
I felt as though I had found gold. I grew determined to share it; or rather, to support others in finding their own gold. And so, a few years down the line, I embarked on a transpersonal psychotherapy training, one that I knew would weave together the insights of Western psychology with the deep wisdom I had discovered in the East. The transpersonal approach to psychotherapy indeed acknowledges and addresses both the personal and spiritual dimensions of human existence. It works not only with the mind, but with our whole organism: body and heart, spirit and soul, all layers of our being. It sees symptoms as invitations to find greater balance and alignment in one's life; life crises as opportunities for transformation. ​
I consider therapy to be a precious space — warm, open, non-judgemental — where two human beings can meet authentically and share a piece of their journey; with the therapist — a friend on the path — simply encouraging you to become more aware, more familiar with yourself: your own emotions, your needs and longings, your wounds and aspirations. It is through the safety and support of the therapeutic relationship that one can dare to look and find the gold within.
Qualifications
Diploma in Integrative Transpersonal Psychotherapy & Counselling, CCPE London
Foundations in Integrative Transpersonal Psychotherapy & Counselling, CCPE London
Foundations in Core-Process Psychotherapy, Karuna Institute
BA (First-class honours) in Social Anthropology, Sussex University
I regularly undertake further training.
Spiritual training
14+ years of intensive study and personal practice under the close guidance of a Tibetan Buddhist master
80+ meditation retreats (both in groups and silent solitary retreats)
Trained to teach mindfulness with Breathworks (for adults) and Mindfulness in Schools (for young people)
I have experience working with
Mental health issues: depression, anxiety, stress, loss, grief, relationship issues
Adverse childhood experiences
Loss of purpose and meaning, existential search
Life crises and transitions
Integrating peak experiences
Psychedelic preparation & integration
Integrating spiritual practice and everyday life
Professional registration
Member of the UK Council for Psychotherapy (UKCP)
I abide by their code of ethical practice.